January 14, 2016
11 minute read
Janice Joostema – model and actress. This Vancouver born beauty skyrocketed to fame after she landed her first big job shooting for Harpers Bazaar. Janice entered the fashion scene as a young teenager thanks to her biggest inspiration, her father – a successful international model himself. Now, only a few years into her career, she already has Sabo Skirt, Anastasia Beverly Hills, Nyx, Tarte, For Love and Lemons, and Lilly Lashes in her portfolio. But her talents don't end with modeling; Janice is designing her own clothing collection too. She's come a long way since her days working at a fish 'n chips restaurant in Mission, but she's still the same sweet girl with an intense love for hash browns and poached eggs. Here are her coveted beauty, health, and fitness secrets. 
Beauty
Most of what I've learned about skincare is self-taught. Growing up, my mother and aunts did Clinique face masks but I never really had a proper skin care regimen until this past year when I finally started to get pimples and blemishes. So now I have a solid 4 step morning and evening routine and I am very particular about what goes on my face – the more natural the better. In the morning I'll use Kiehl's Blue Herbal Gel Cleanser to wash my face. Next, I'll follow up with their Rare Earth Pore Refining Toner. Then I always apply an eye cream before my moisturizer so I use my Kiehl's Creamy Eye Treatment with Avocado and then La Mer Facial Moisturizer. If I could recommend one life changing beauty product it would definitely be this one. La Mer was developed by a man who wanted to find something to help his own skin, as he had badly burned himself. The ingredients in all of the La Mer products have properties that improve pores, fine lines, and wrinkles. It is on the pricier side but I believe your skin is so worth it. In the evenings I use the same cleanser, toner, and eye treatment, but I'll switch up my moisturizer and use Kiehl's Ultra Facial Moisturizer for extra hydration.
I'm a big fan of face masks. I travel a lot for work so I always bring those Clarins facial masks that you just place on your skin and take off after 10 minutes – that gives you lots of moisture for flights. I also love DIY beauty treatments, so one of my favourite masks is one that I have been doing since I was 9 years old with my friend, Athena, that we learned from Michelle Phan. You take a tomato that is cut on its side and using the stem as a handle you dip it in brown sugar and make circular motions on your face to exfoliate the dead skin off and brighten your complexion. Then you just wash it off after 10 minutes with lukewarm water.
I try to see my facialists at The Skin Girls in Vancouver as often as possible – the girls there are absolutely amazing. Currently, I have been so busy I haven't had time to see them but every time I do I get an oxygen facial. They just get rid of all the dirt in your pores and really plump up your skin.
But honestly, my #1 beauty secrets are eating well and staying zen. I've found that the phases in my life where I was really stressed and not eating right and drinking alcohol were when I would get pimples and look tired or sick. Whereas, when I am super happy, fulfilled, and drinking tons of water and green tea my skin is clear and glowing. 
In terms of body care, my staple products are my Jo Malone body moisturizer and Bliss Fatgirlslim tightening cream for the back of my thighs and tummy. I also mix up my own coffee bean scrub. I buy whole foods coffee beans – so it's more fresh – and I grind it up in a coffee grinder and mix in some brown sugar, pink Himalayan salt, and plain organic yogurt until it's thick. Then I get into the tub and rub it onto my body and face and leave it on for 5 minutes before washing it off. It smells delicious and your skin is buffed to perfection. Frank Bod is another amazing scrub if you don't want to create your own concoction.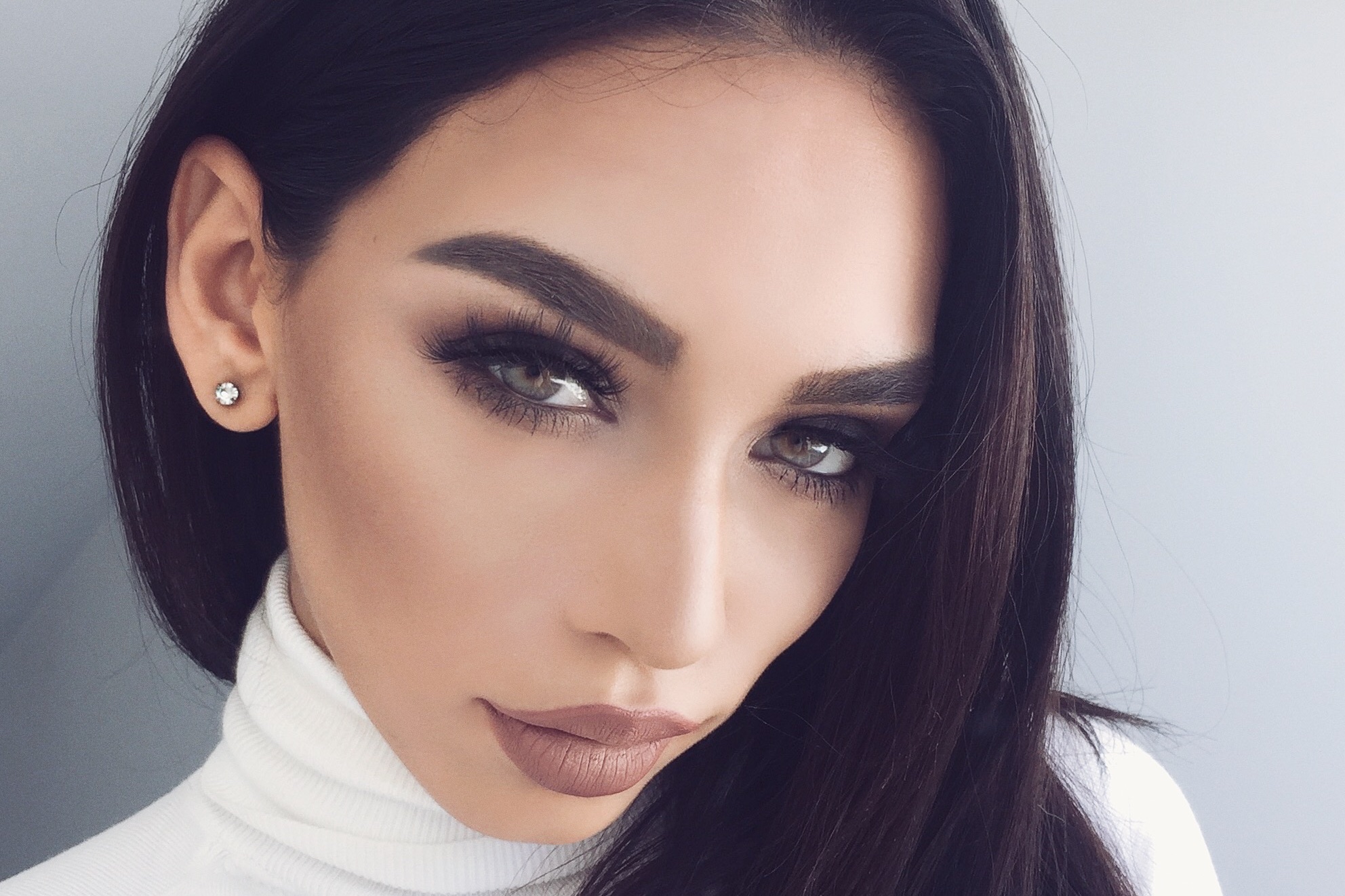 Speaking of baths, they are my favourite. Before a big acting or modeling job I always have a relaxing bath with candles, a big mug of green tea, and a clay facial mask or lavender face mask. And if I have time my boyfriend and I love to take off to Whistler to the Scandinave Spa baths. They're such a beautiful and relaxing experience.
For makeup, my signature look is a gold eye look with nude lips and golden-bronzed skin. For my base I use Giorgio Armani Luminous Silk foundation and Anastasia Beverly Hills Cream Contour Kit. I also love to blend Soleil Tan de Chanel bronze base on top of my cream contour. I learned all of my blending and contouring from the amazing Amra Olević (@Amrezy) – I love her. I've also learned a lot from Norvina (@EvonWahab) who is Anastasia's daughter and extremely talented. For eyes I use Anastasia World Traveller Palette (similar here) 'Spoiled' and 'Pink Champagne' mixed and I apply Lilly Lashes in the style Mykonos and then Marc Jacobs Mascara. I'll finish it off with Anastasia Glow Kit in 'Dripping in Gold' for highlighter and Anastasia 'Pure Hollywood' liquid lipstick with Butterscotch lipgloss on top for my lips. Most days I prefer to wear minimal or no makeup when I leave the house because I feel like my skin is taking a fresh breath of air after everything I wear at blog or photo shoots. I always wear a lip liner though as my lips are pretty thin – but I know some tricks to make them appear pouty. I actually used to sleep with makeup on when I first met my boyfriend but that was when my skin could stand it and not react to all of the makeup in my pores. Now I always go to sleep bare faced, cleansed, and moisturized.
I try to keep my hair routine as low maintenance as possible. I don't use heat on my hair and do a lot of hydrating hair masks from Hello Hair. When I get my hair styled I use the blow dryer and wire hair brush technique to keep my hair soft and healthy. I also have a whole team who treats, styles, and cuts my hair. I have Sarah Namrood (@HairByNamrood) do all my hair colours for extensions, wigs, and my own head of hair. Then I have the girls at Ignite Beauty salon do caviar hair treatments and styling with a steam pod, which strengthens my hair. Finally, I have Dennis (@RioTranslado) do my hairstyles and he is truly a genius with hair! My signature look is always long, loose Victoria's Secret curls. At home I use Hello Hair Masks, Living Proof Restore shampoo and conditioner, and Tatcha Gold Camellia Beauty Oil to keep it healthy in-between salon visits.
My eyebrows are a big feature for me and I try to take really good care of them. I let them grow out and only pluck or wax a little under my brows and clean up the ends so they appear more prominent and shaped. I get a lot of comments about them, good and bad, but the bad don't bother me anymore. I love them and, honestly, they aren't as thick in person as they are in photos. But I just love full brows, I think they are so youthful and healthy looking!
Nutrition
I believe that you are what you eat, and I want my body to have the best so I eat pretty healthily. I don't really follow a diet as I have been super busy lately with projects and am in the middle of renovations and moving but as soon as we are settled I want to set up a daily diet to follow. My love and I are both lactose intolerant so we try to mostly stay away from dairy and for milk we drink almond or coconut milk instead, but otherwise I'm pretty laid back. I love nourishing my body with lots of fruits and veggies – blueberries and bananas are my favourite.
Before a big job I try to stay away from carbs, unless it's sushi, as pastas and rice dishes make me bloat and it's not very pretty in photos. I also like to do a cleanse every once and a while too, but I don't do them often – maybe 2 or 3 times a year. When I'm traveling for work I love Dirty Lemon Detox. It is a raw lemon juice with ginger and dandelion root that alkalizes the body and includes activated charcoal that absorbs toxins.
My ultimate food day would definitely include home made hash browns and poached eggs for breakfast. It's my comfort food meal. My dad made it for me every day growing up and still does when we visit. I'd also have spelt flour pancakes with organic maple syrup and blueberries on top for breakfast – I love that. Then salmon oshi aburi and kappa maki's with spicy mayo on the side for lunch and pomodoro spaghetti with cherry tomatoes and basil on top for dinner. And finally, a chai creme brûlée for dessert.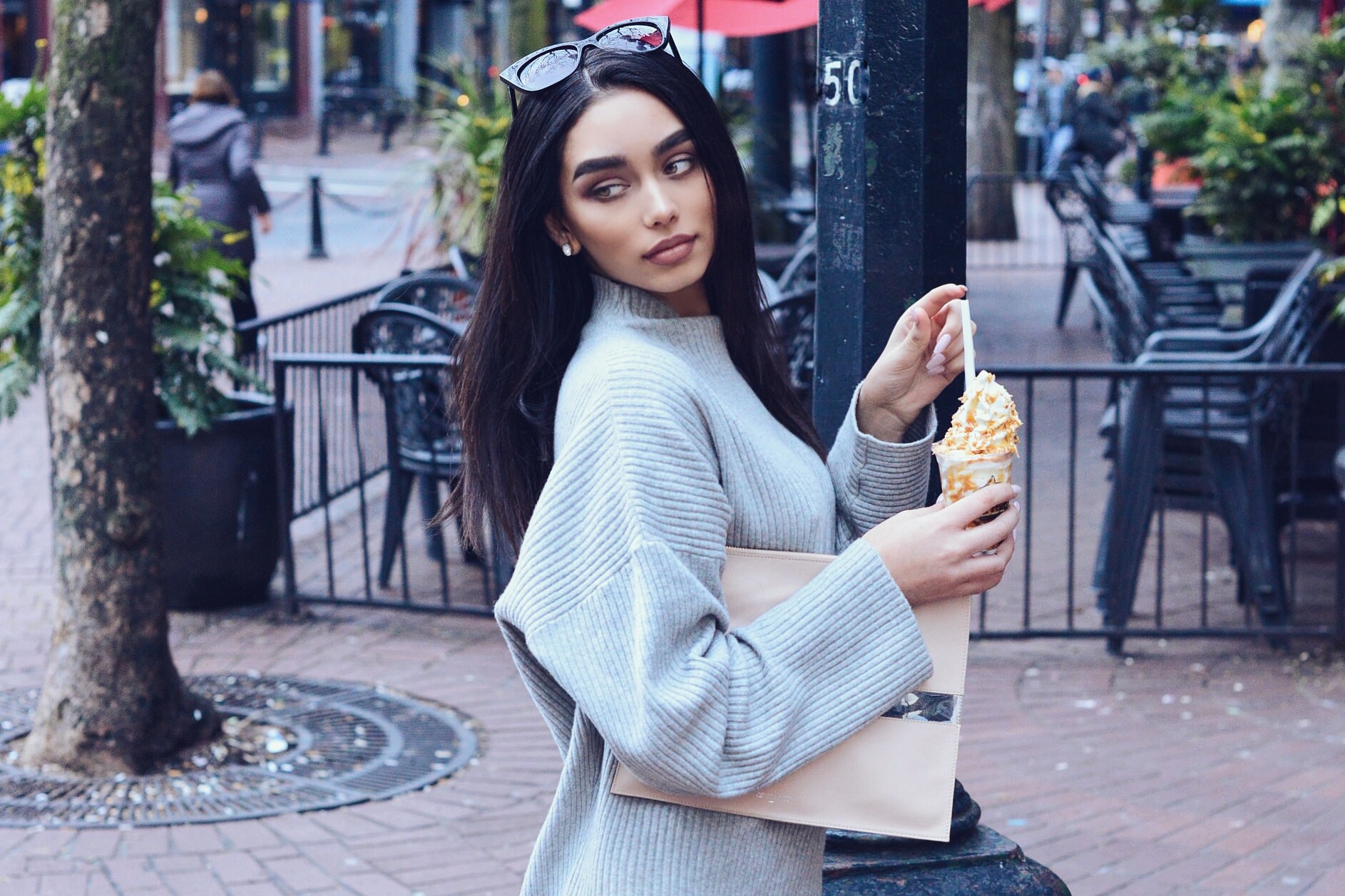 Fitness
My secret to staying in shape is my metabolism. Just kidding. I love being active and feeling healthy. So I do yoga at home and I'm constantly running around. I'll admit I haven't been able to get to the gym in a couple of weeks but my eating habits are still good and keep me in shape. The best advice I've been given about fitness is that I should keep myself healthy and in shape now so I will look and feel young as the years go by. My philosophy on fitness and health is that you only have one body so you better maintain it the best you can. 
When I do go to the gym the elliptical is my favourite machine there as I use both my upper body and lower body. I also do leg raises to keep my tushy perky. I don't feel the need to find a personal trainer to help me stay fit because my boyfriend did fitness competitions in the past and he tells me which workouts are best for me. But before a big job I always kick up the intensity of my fitness regime. Working out right before a photoshoot really enhances my abs and bum so they look great when I shoot.
I have this big and beautiful community supporting me and if I could give them any advice it would be to be the best you – inside and out. Always take care of yourself by being healthy and active, but make sure you're happy too. Create less stress and love more and just be yourself. Everyone is unique and I love that, so let your uniqueness shine! I think true beauty is in the soul of a person, it's in the twinkle in the eye of someone you're having a deep conversation with, it's in people's outlook on life, love, and dreams, and it's in being honest and real.
Sincerely,
Janice
-Interview and edit by Emma Hansen, January 2016 and photo rights to Janice Joostema.