August 25, 2016
5 minute read
Only two more days until the big wedding, and so here's my last pre-wedding post for the bride-to-be. A couple of weeks ago I hosted a bridal shower for Hanah with my sisters, Alana and Rebecca, and Micaela. We had it at my parent's beautiful home in Steveston that was the perfect setting for a lovely afternoon with 13 of Hanah's closest friends. Here are the details from the day.
We started off with drinks and mingling until all the guests had arrived. So the girls had a mimosa bar and a cold brew bar to choose their beverage from. We poured all of the juices and coffee accompaniments into serving jugs to create a more consistent look and made signs to put in frames for each station. For all of the signs used at the shower we used the "bromello" font from dafonts.com – it's the perfect cursive!
Once everyone had arrived we served the food, which was all brunch inspired! We had a waffle bar, a parfait bar, mini-fried chicken and waffles (Hanah's favourite brunch food), and caprese salad sticks.
There was also a dessert and snack bar stocked with mini-lemon tarts, coconut macaroons, popcorn (with a super cute "he popped the question" sign) and candy dishes to tide the guests over until the cake was served.
When it was time for dessert we put on a sexy song and revealed our big surprise of the afternoon: Carson, Hanah's fiancé, in his boxers and apron holding the cake. He strut into the room and Hanah immediately burst into tears (she does this often). For anyone who doesn't know Carson, this was very out of character and so Hanah was just blown away that a) he was at her shower and b) that he was in his underwear serving dessert to the guests of her shower! And can we talk about how beautiful the cake is?! Courtney, Hanah's cousin and Micaela's sister, baked it for the shower.
Having Carson pull that off made the whole event so special and I'm still so shocked and grateful that he agreed to do it – he said it was 100% only because he knew Hanah would love it and be blown away, and boy was he right!
Seriously, just look at her face!
Aaron, Derek, and Levi (Hanah's brothers) all made a quick appearance too. It was so much fun to have them there to join in on some of the celebrations with Carson and Hanah.
After dessert we played a couple of games with the girls. We had a classic "guess how many?" type game that we had out from the start, a wedding word scramble, and a match the Disney characters game. Hanah never grew up watching Disney (she has 3 brothers) so we thought that last game would double as something educational for her and also be fitting for the gift theme of the shower, which was date night!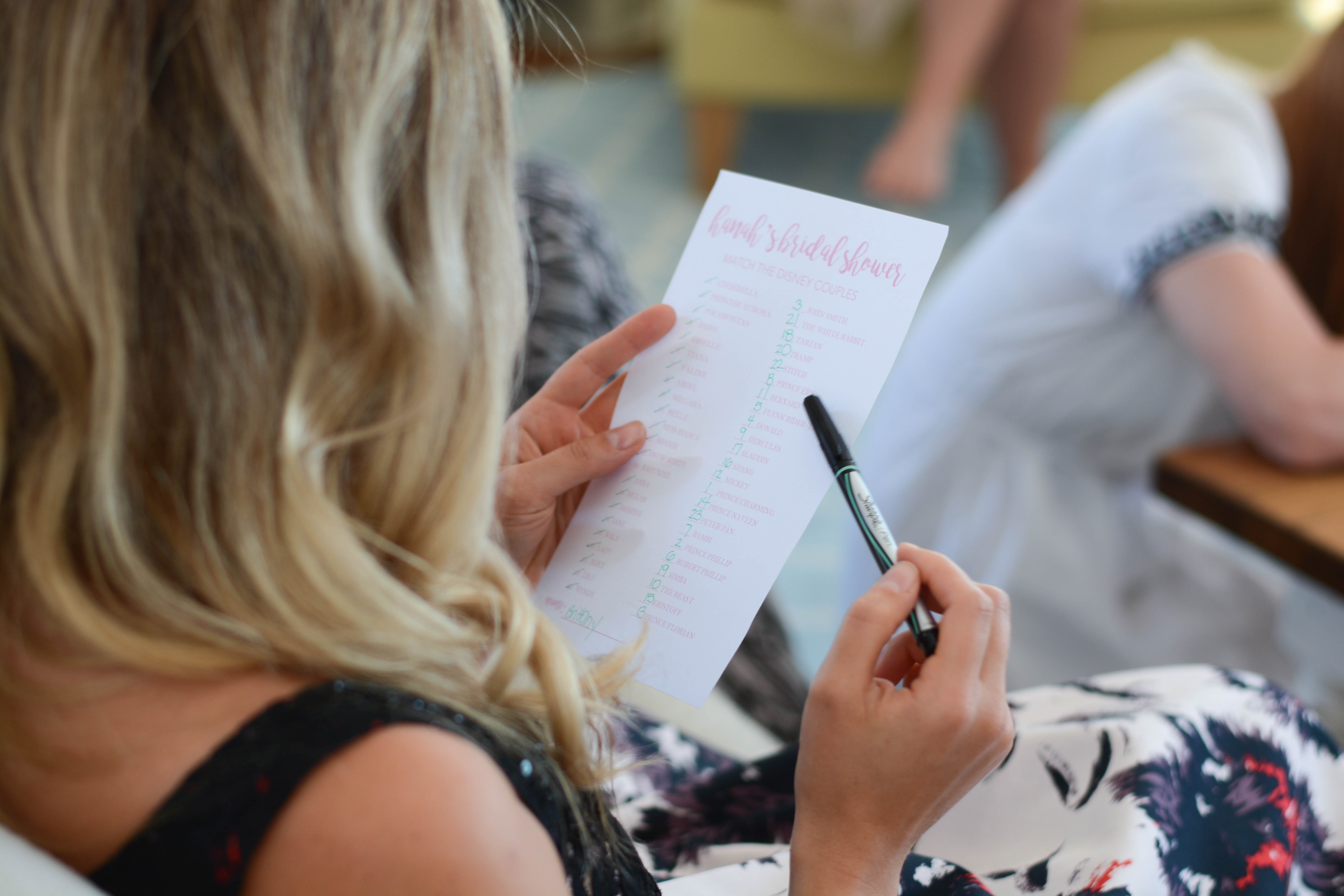 That lovely "happily ever after" banner was also made by Courtney.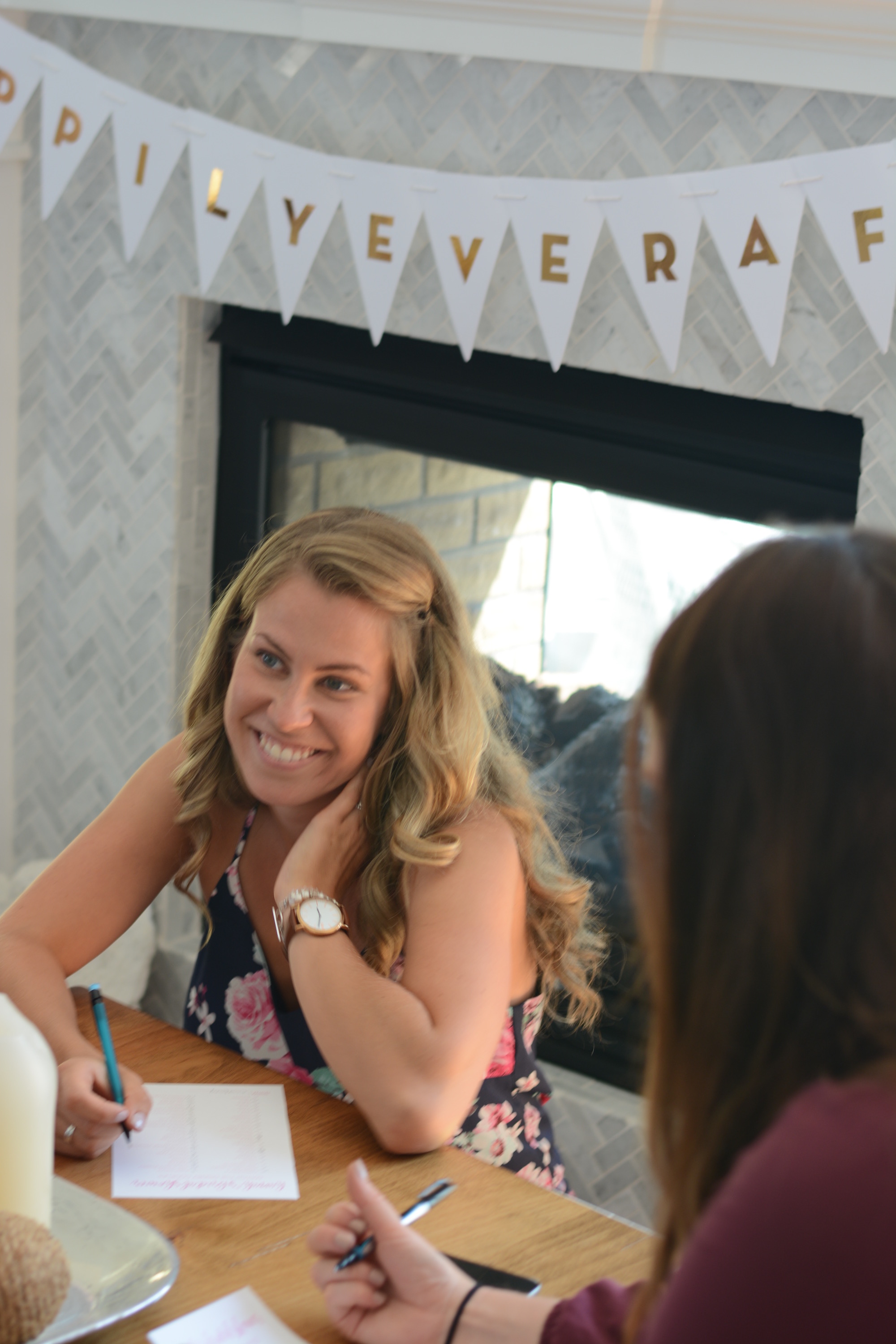 Then we had Hanah open all of her gifts – they got so many sweet things for date nights.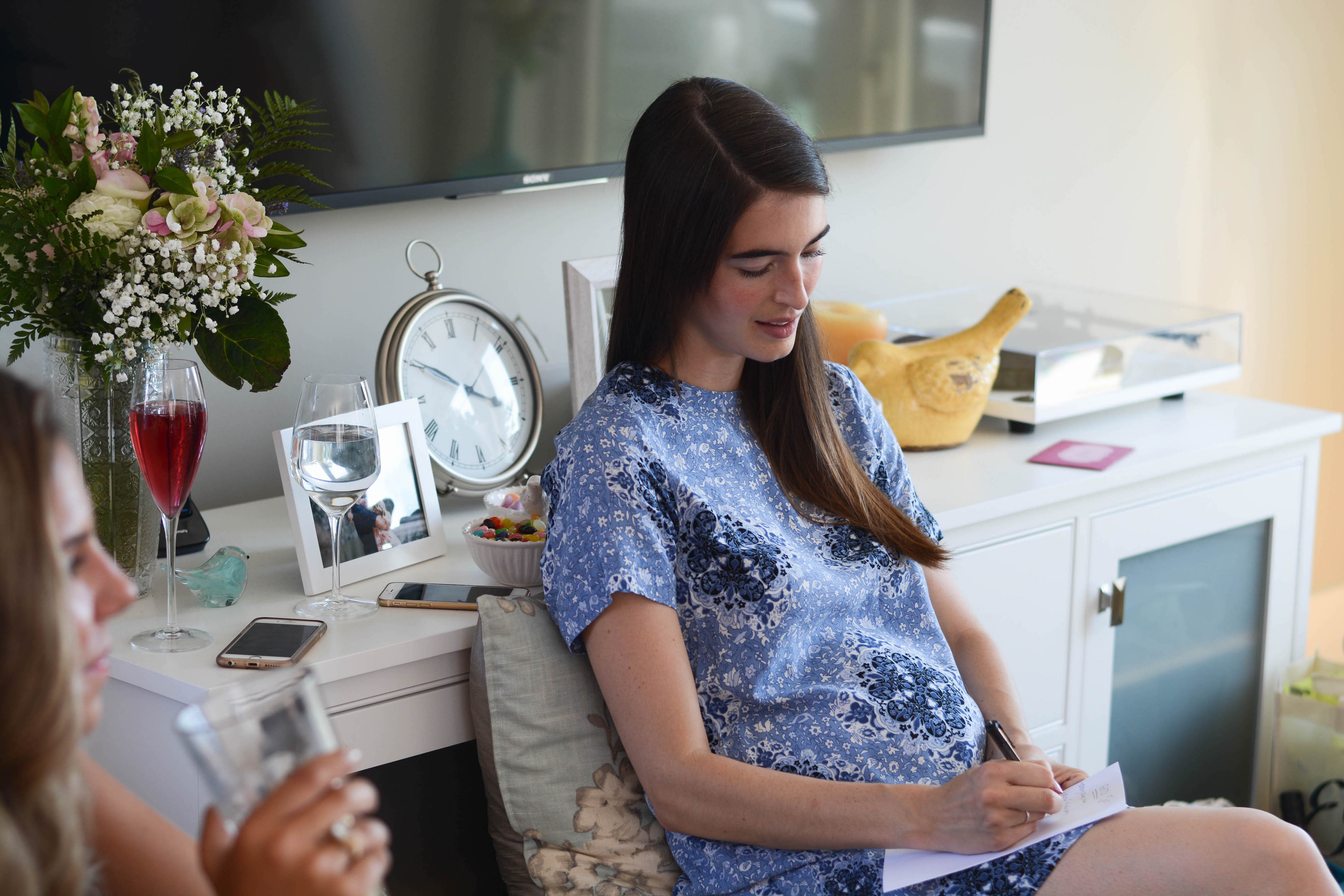 To end the afternoon we brought all of the girls out onto the deck where we had set up a backdrop for photos. This was a really nice touch to the event because it allowed us to take photobooth style pictures that Hanah could have as keepsakes from the event. And who doesn't love a photobooth?
We sent everyone home with these adorable little favours to use for their own date nights! Mini debborah lippman nailpolishes in the sweetest gift bags I've ever seen (I found them at Daiso in Richmond for $2 for 22 of them).
It was such a beautiful afternoon that was made perfect by so many people. So I have to take a minute to thank everyone who helped out: my parents for lending us their home while they were out of town, my mom for helping again with so many of the decorations and for providing the champagne, my grandma for hosting the boys before Carson came up to surprise Hanah (and also for providing Carson with a little liquid courage), Aaron and Levi for helping us set up in the morning when we were running behind, Courtney for making the beautiful "happily ever after" banner and for baking Hanah's amazing cake, the girls who stayed after to help clean up, Carson for his bravery and willingness to surprise Hanah in the best way, my sisters Alana and Rebecca for helping with all of the set up and for hosting this shower with us, and Micaela for helping to craft, plan, and host yet another successful event for our best friend Hanah! And of course, another big thank you to the girls who came out to shower Hanah with love and to the bride-to-be herself for giving us all of these opportunities to play party planner and celebrate her upcoming marriage! Can't believe this girl gets hitched in just two days!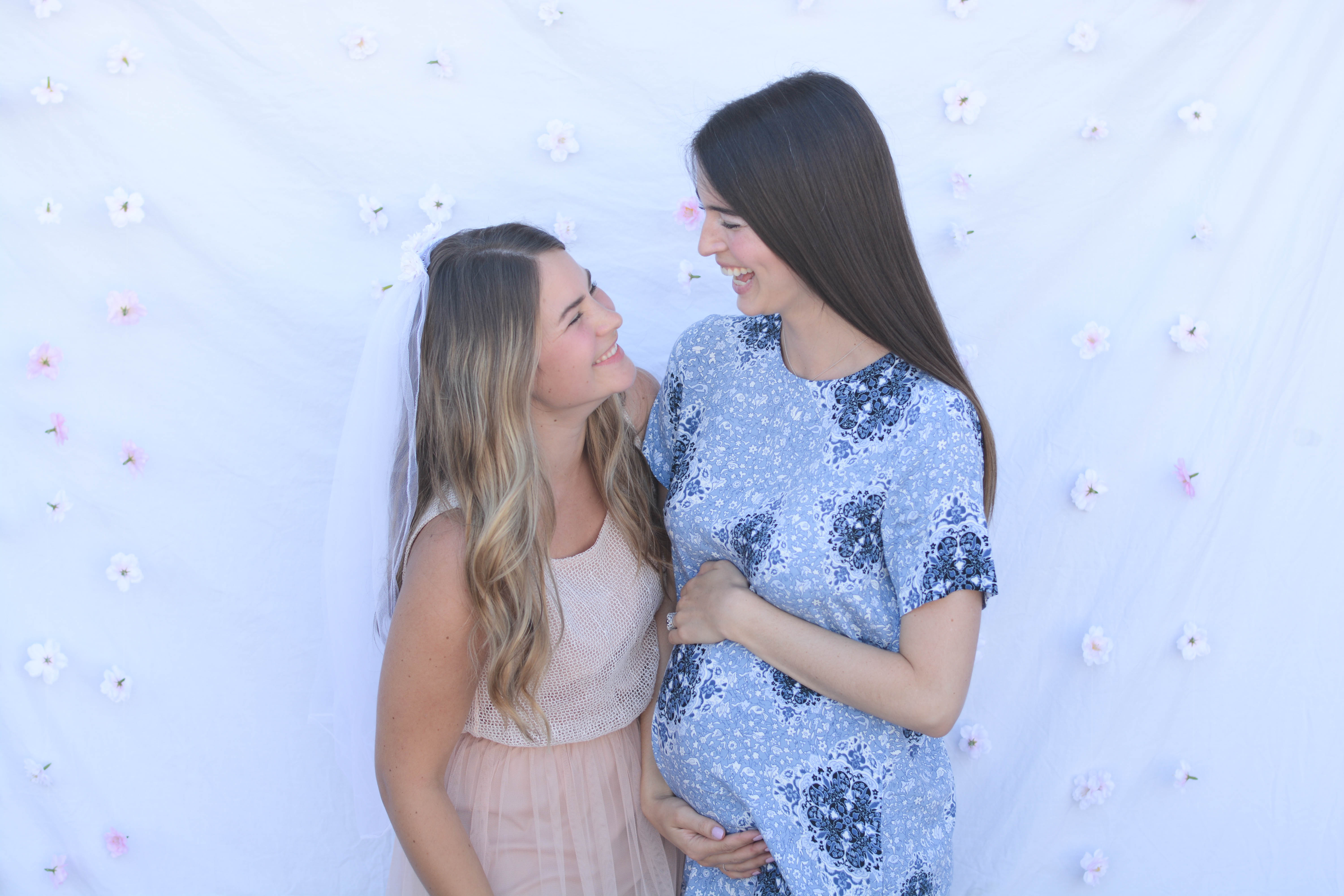 Sincerely,
Emma