August 22, 2019
7 minute read
Last year, my dear friend Haley of Beluga Baby and I released a very special wrap, along with matching Mini Beluga Doll Carriers, Oversized Swaddles, and Braided Bracelets. It's called "The Reid & Rett Wrap" named after my sons, Reid and Everett. And in honour of National Rainbow Baby Day, I wanted to share the story behind this campaign.
The Inspiration
One night, years ago, I had a dream. In this dream I was embracing Everett and we were surrounded by the most incredible rainbow of pastel hues. 
In 2015, Haley and I were in the same hospital at the same time birthing our first children, and it was through her wraps that we connected the next year, while I was pregnant with my second. As I was drafting this email to her, not sure of exactly what I was trying to say, an idea took shape. What if we could collaborate and create a rainbow wrap? What if we could create something to honour rainbow babies everywhere? To keep them close? To allow for one more opportunity for parents to talk about the baby or babies that came before them? To hold space for heartache and hope to coexist? To offer another way to open up conversations around loss? To help erase stigma and shame and end the silence? To allow for the friends and family of those who know loss to have the same chances to initiate positive change? What then? 
I think something beautiful would happen. I think it would be powerful. Because, we're all touched by child loss in one way or another, aren't we? Meet the Reid & Rett wrap, and the project that was created from it.
This project is for Reid, inspired by him, and in honour of him. And it is also for all of the other children that left this earth too soon. I wanted a lifetime with Reid. Years of diaper changes and first days of school and soccer practices. When he passed away, I felt robbed of a future with him. But through my grief I soon learned that he hadn't left us, not really. Reid is still here. Still present. Still loved. Just in such a different way than I imagined. Through projects like this. And this is the why. This is the inspiration behind this whole idea. Parents: we see you, your pain is real, and your babies are remembered and celebrated. Always.
Of course, the vision for this Reid & Rett project would not have been complete without my own rainbow baby, Everett. Dear little brother. 
Why A Rainbow?
Rainbow babies are traditionally known as babies that follow miscarriage, stillbirth, or neonatal death. But we are not here to define the losses in your life or tell you what they mean. Here's what we believe: Rainbows signify hope after loss. They are what emerge through the storms in our lives, often in the very thick of them. They don't fill the spaces in our hearts. Those spaces will forever belong to who (or what) was lost. They don't erase the clouds: they appear beside them. These experiences of deep sorrow and pure joy re-define what we once knew of these emotions – creating space to both grieve and celebrate all at once.

Whatever your versions of hope and loss are, we want to honor them. Honor the memories of your lost children. Honor the new lives you have in your arms. Honor the space you've created in your life for a rainbow that is unique to you. Our stories hold deep power in their diversity, and it is in them that we will find healing.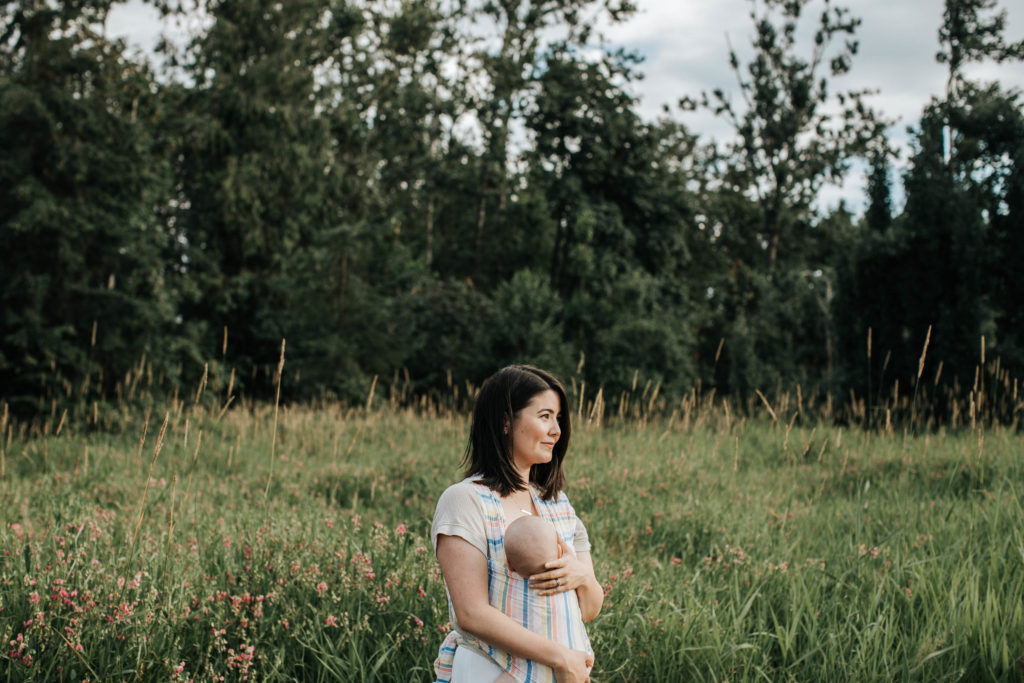 Some FAQs
Is this wrap only for those who have lost a baby? No! The rainbow print of this wrap stands for inclusivity. With it, we want to help erase the stigma and break the silence that still exists around child loss. Chances are, you know someone touched by it—a family member or a friend. We want to honor those precious children that have passed and the rainbows of this world. We want to give recognition to those who have loved and lost. We want this rainbow to be a universal symbol of the hope and love that coexists with grief. When you wear this print, it's in support of this vision in whatever way you identify with it—that is a beautiful thing. If someone asks you about it, take the opportunity to have an honest conversation about child loss. 

Is this a charitable wrap? It is!

A third of proceeds from products purchased from this line will be donated to the

BC Women's Hospital NICU, where Everett received lifesaving care.

Did you design the print? Yes, it's an original! It was a collaborative effort between Haley and I with graphic design help from the talented @creativewifeandjoyfulworker.

Will you be selling the bracelets too? Unfortunately, these have sold out and will not be re-stocked. We had two goals with this idea: 1) to be as sustainable as possible by using scraps created in production and 2) to provide a product that could be worn by those who are still waiting for their rainbow, have a different rainbow, or perhaps have a completely different reason inspiring them to wear one in support of our vision. But we hope to bring another product to life to fulfill this vision in the future. 
The Call to Action
Haley and I hope that this line will challenge our cultural default of running away from pain. We hope that this line will draw us out of our shells and lead us towards our communities again. We hope that this line enters the lives it needs to and brings joy – real, messy, deep joy – with it. The way that my two sons, Reid and Rett, came into my life and did all these things for me too. 
With this project, we are also calling you all to action. And here's how: If any of you see these products out in the wild, go up to the person wearing them. Go up to them and say hello and ask them the story behind how this rainbow print entered their lives. Listen compassionately and with an open heart. Then, if you and the person choose to, you can share your experience using the #reidandrett hashtag. Let's have these hard but beautiful conversations. Let's grow. And let's do all of this together. 
Thank you to the talented Julie Christine Photography for these Reid & Rett Campaign photos.
To purchase products from this collaborative line, you can find them in the Beluga Baby shop at the following links:
The Reid & Rett Mini Beluga Doll Carrier
The Reid & Rett Oversized Swaddle